Seven lessons I learned in Abu Dhabi
30 Leaders from 10 different cities gathered together in Abu Dhabi early May 2017 for a Multi-Faith event. Every city leadership had representations of the three Abrahamic faith; Christians, Muslim, and Rabbis. The goal is to build bridges of relationships, develop trust and work towards a strategic plan that would bring peace and reconciliation to their cities. They created plans to eat meals together as families; to bring their constituencies together to break down the walls of separation and work together to see the prosperity of their city. They committed to standing up for each other in the face of religious persecution and get involved in global affairs in promoting peace among religions and to speak up against religious persecution worldwide.
This event was a collaborative effort between three organizations; Glocalnet, International Interfaith Peace Corp and the Forum for Peace. Glocalnet led by Dr. Bob Roberts and IIPC led by Imam Magid Mohamed, have been working together for years bringing Pastors and Imams together on a retreat called "Building Bridges of Faith". This retreat has been designed to break down walls of suspicion, build a foundation of trust and create a pathway to peace and reconciliation in their cities. Forum of Peace led by Sheikh Bin Bayyah a world-renowned Muslim scholar and the United Arab Emirates sponsored this retreat in Abu Dhabi in May 2017 and invited Rabbis to join for the first time. It was a historic event; the first of it's kind.
The leadership of each city returned with a strategic plan to execute the vision to promote peace and to work together to build stronger and more resilient communities of faith.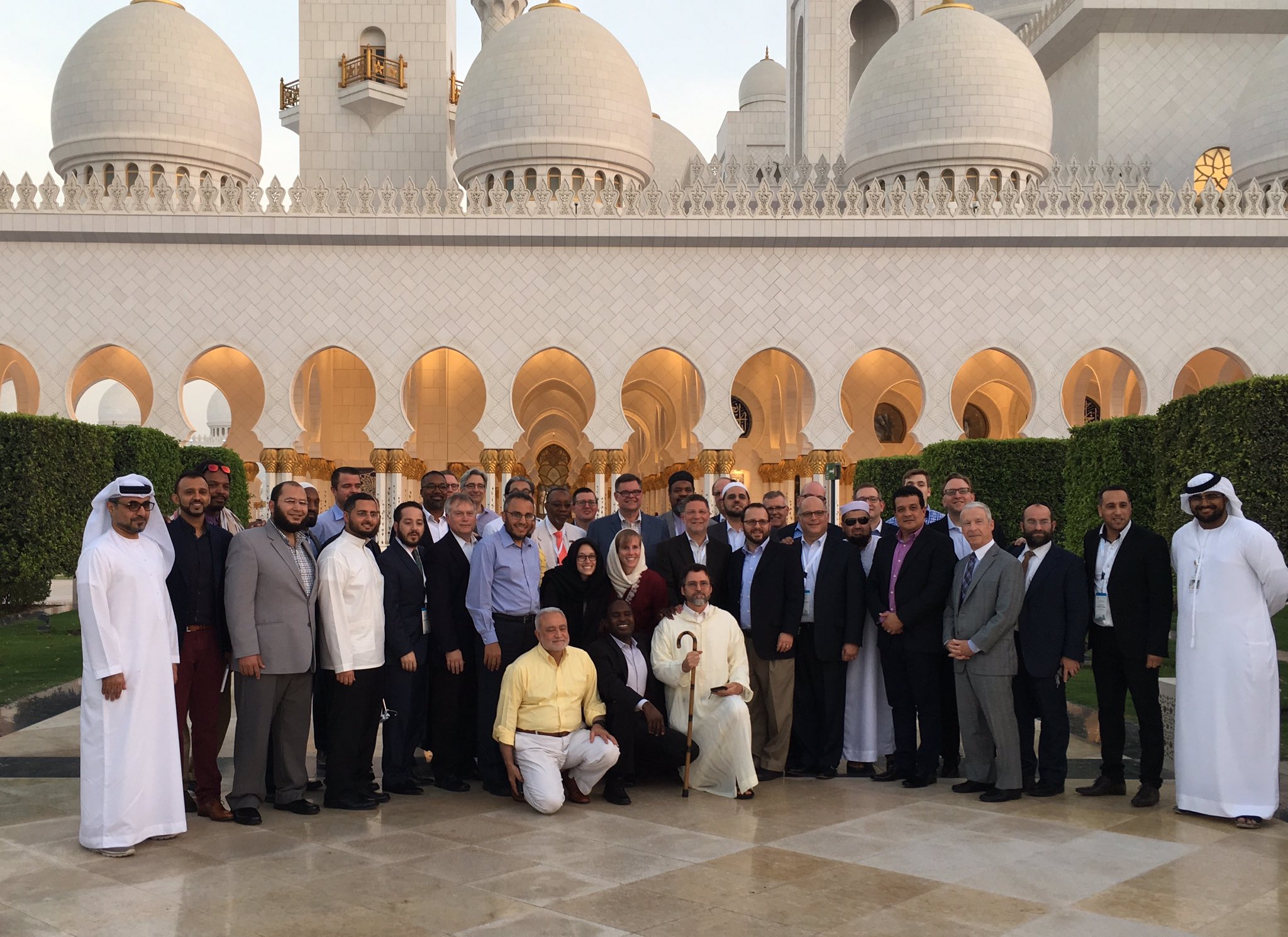 These are some lessons I walked away with.
Every Religion has peacemakers. Find them and work with them for the common good. These are people of peace who wield massive influence. Influence many times is greater than power, for influence has the ability to move the masses as it frequently affects the heart not only the head.
Love is stronger than hate. The force of love is much more powerful than hate. When religious leaders decide to love all people regardless of their differences and choose love over hate, it changes the environments of our cities and communities.
Generosity is a powerful force. It is not a passive sentiment but a powerful action that moves the heart of others. It puts pressure on the soul of others for good. The leader of this region led by Sheikh Bin Bayyah showed great generosity toward the strangers and visitors and it warmed the heart of all who attended.
If not us, then who? Just because we do not share common beliefs does not mean we do not share a common humanity. Religions of all people carry an ethos of what Rabbi Sacks calls "ethics of responsibility". We of all people should be the first to put into action love and care for people. The best of our faiths should always move us to love and harmony not hate and wars.
We are all truly created in the image of God. We are all children of Adam and Eve. Our journey through life and religions shapes us. However, if you look beneath the layers of beliefs and philosophies we developed as we have grown from childhood to adulthood, you will find a common humanity. A desire for family, peace, friendship and community. We all desire to be known and loved. We were not created to be alone therefore God made us to remove the aloneness of each other.
Hospitality is a powerful practice. Eating meals together and listening to each other's story breaks down the walls of suspicion and separation. Eating meals together is not some flippant thing we do. It is the core of what we do. Food creates an environment like no other. It values the other at its very essence as we share each other's culture.
Laughter brings people together like nothing else. When people laugh with each other it creates a bond. It speaks of a God who has given to us such a precious gift that allows us to forget for a moment, all of our differences and troubles and elevates us to a place that is transcendent. Rabbi Noach Wienbergs says, "Laughter is an opportunity to transcend limitations that bind us to see God more clearly."
There is a need for a grassroots movement that will create friendship among religious leaders of all different faiths. "Dealing with religious actors is the major missing ingredient," says Pastor Bob Roberts, President of Glocalnet and one of the leading Christian leaders promoting peace among all religions. It is time to capitalize on the extensive ties of faith leaders and develop a grassroots movement that is built on trust and respect for each other and seek to collaborate with our academic, political, and institutional efforts to bring positive change to this world.
Omar Reyes
Omar equips members to use their job to engage the domains of society, including government, business, medical and others to see radical transformation.